Join Ireland's top University

Trinity is Ireland's leading university and is ranked 104th in the world*
Trinity delivers world class education and employers worldwide hold Trinity graduates in high esteem.  Graduates include Nobel Prize winners in literature, science and medicine; presidents and world leaders; award-winning actors and film makers; internationally renowned poets and playwrights, entrepreneurs and business leaders.
*QS World University Rankings 2018
Join generations of students who have come to Trinity to enjoy a student experience inspired by world-leading academics and our research-led curriculum. Do all this while studying at our beautiful campus right in the centre of Dublin.
School of Dental Science
The School of Dental Science provides education and training programmes for all members of the dental team. The School is housed within the Dublin Dental University Hospital, which is on the main Trinity Campus. The Dental Hospital is a National Centre of Excellence for many of the dental specialities, so all dental students are exposed to a very rich mix of patients for their training, while patients have access to clinical care that perhaps would not be available to them otherwise. The School has a number of research strengths, particularly in relation to fundamental and translational microbiology. Researchers in the School and Hospital are internationally recognised for their work on areas such as waterline decontamination and on the containment of MRSA and other serious infections. For a full profile of the School and Hospital, please visit Dental.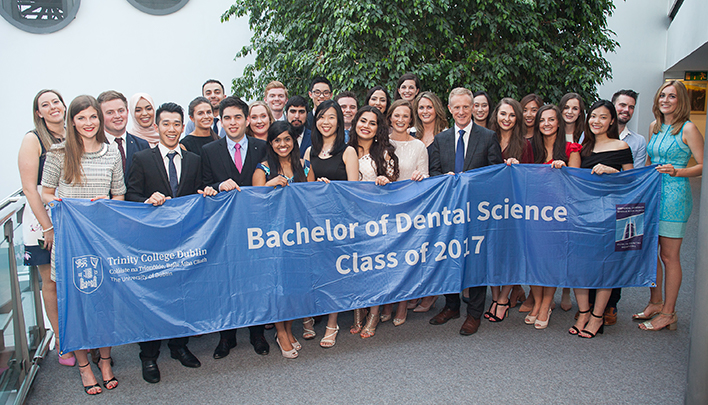 Why choose the Trinity School of Dental Science: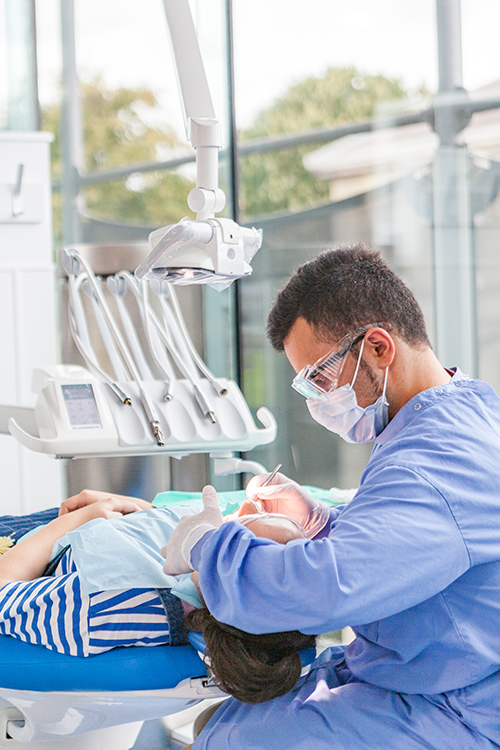 Trinity College is ranked 48 in the World Leiden Ranking 2013.
The School of Dental Science is a supportive environment of multiculturalism and multinationalism.
Teaching and clinical staff are of the highest standard with a broad range of world-class specialists in one location.
Trinity College has a world-class library, with over 5 million copies and the Dublin Dental University Hospital has one of the largest collections of dental literature in Ireland; both libraries are available to students.
Trinity College has an International Admissions Office to advise on study opportunities and the entry requirements of Trinity College Dublin.
Our integrated teaching methods are praised by external examiners from across Europe.
Students engage with patients from an early stage in their programme and amass a wealth of clinical experience before they graduate.
We offer a wide range of postgraduate opportunities and encourage our students to return to specialise in their chosen area.
Trinity College is located in Dublin's city centre, offering you a unique opportunity to live and study in one of Europe's great capitals: Dublin in 60 Seconds.
We have an ever-growing alumni community which helps and supports graduates, making your relationship with Trinity College a relationship for life.
School of Medicine
The School of Medicine is one of the largest schools in Trinity College with a cohort of approximately 1400 students, incorporating the disciplines of Medicine, Radiation Therapy, Occupational Therapy and Physiotherapy. The School has a very proud history, having celebrated its tercentenary in 2011, and continues to be one of the top 100 medical schools in the world. For a full profile of the School, please visit their website: School of Medicine
Mission Statement
I am delighted to have an opportunity to contribute to the mission and development of the School of Medicine.
The mission of the School of Medicine of Trinity is to deliver Medical Education to the highest international standards. We train clinicians who are equipped with the scientific and clinical knowledge and skills to fulfil their professional roles in a competent, caring, and patient centred manner, reflecting all domains of excellent practice. We strive to produce individuals who, through self-efficacy, critical thinking and outstanding clinical, professional and ethical standards, have the skills to become leaders in their chosen field of practice and fulfil health service roles with distinction, in line with the Trinity graduate attributes.
The School, as a leading research-intensive institution, will foster a commitment to life-long learning in its students in preparation for post-graduate training. It further aims to integrate its educational obligations with other missions to deliver and effect high-quality patient care, improved global health, research excellence and new knowledge generation.
The School embraces an ethos of social responsibility, accountability, public service and community involvement. It is dedicated to meeting the healthcare needs of the national and global community, by training doctors and allied practitioners to practice with integrity, and with a deeper understanding of the impact of psycho-social influences and inequity on health and disease.
School of Nursing & Midwifery
The School of Nursing and Midwifery in Trinity College is Ireland's leading institution for Nursing & Midwifery education and research. The School lead the national upskilling of nursing and midwife education to degree level and they currently educate approximately one fifth of all nurses and one third of all midwives nationally. The School leads on research and translational research, with Ireland's first Centre for Practice in Healthcare Innovation. For a full profile of the School, please visit their website: School of Nursing & Midwifery
The School of Nursing & Midwifery Studies is ranked 1st in Ireland and 25th in the World in the QS World University Subject Rankings 2018.
As the leading school of Nursing and Midwifery in Ireland we are committed to the provision of a first rate educational experience for the high quality students that we serve. Our vision is to be the best school possible for Nursing and Midwifery education and research. We aim to position our nurse and midwife graduates for work at the forefront of cutting edge developments in modern health care building upon a foundation of core values for nursing and midwifery i.e. care, compassion and competence. Our nurse and midwife graduates enjoy a worldwide reputation for excellence and are highly employable undertaking diverse roles at all levels within health systems both nationally and internationally.
Trinity College Dublin is closely aligned with several partner healthcare organisations including large academic teaching hospitals, regional hospitals, maternity hospitals, children's' hospitals, mental health services, and a wide range of community health and social care services. We are the linked university to the Dublin Midlands Hospital Groups- a network of hospitals including St. James Hospital, Tallaght Hospital, Naas General Hospital, Midland Regional Hospital Portlaoise, Midland Regional Hospital Tullamore, Coombe Women and Infants University Hospital and the St. Luke's Radiation Oncology Network.
We are ranked the number one School for Nursing in Ireland and ranked 25th in the world by the QS international rankings system. A review of our website will demonstrate why we developed a national and international reputation for undertaking innovative and world class research that is positively impacting the quality of the health care experience and delivery in Ireland and beyond.
We are one of only two schools of Nursing and Midwifery in Ireland that provide undergraduate and postgraduate programmes in all Nursing disciplines (Children's, General, Intellectual Disability, and Psychiatric Nursing) and in Midwifery. The multidisciplinary team within the School and our health service partners are committed to providing you with an exceptional clinical and theoretical educational experience within a nurturing environment. When you study at the Trinity College School of Nursing and Midwifery you will develop the skills and knowledge to meet the challenges and complexities of working and practicing in the health care service of the future, as well as the innovative skills and leadership abilities required to influence future policy and service provision.
The School's Strategic Plan for the next number of years seeks to continually re-invigorate the student and academic experience across our undergraduate, postgraduate, international, research, practice and community engagement roles. If you wish to learn more about the vision and activities within the School, or you would like to study within the School please contact us; our administrative and academic staff will be glad to help you. We look forward to welcoming you in person soon.
School of Pharmacy and Pharmaceutical Sciences
The School of Pharmacy and Pharmaceutical Sciences is one of the top 30 schools of pharmacy in the world. It is a compact school with approximately 300 undergraduate and 100 postgraduate students and 50 staff and post-doctoral researchers. All undergraduate and Masters students undertake research projects as part of their studies, and these projects are usually linked to the School's main research projects. The School's research strengths lie in the areas of pharmacy practice, neuroscience and neuropharmacology, cancer, drug delivery devices, development of medical devices, medicinal chemistry and the discovery of molecules from natural sources. For a full profile of the School, please visit their website: School of Pharmacy & Pharmaceutical Sciences
How to become a Pharmacist
Entry requirements for the School of Pharmacy and Pharmaceutical Sciences, Trinity College Dublin, are available from the Admissions Office. Please note these are minimum requirements. Seventy places are available annually and because of demand, applicants will have to present qualifications which are substantially higher than the prescribed minimum to ensure success.
Graduate Entry
The School is pleased to announce that it will be accepting a limited number of graduate applicants onto its BSc (Pharmacy) degree course.
Entry criteria will be as follows:
Candidates must hold, or expect to hold, by July prior to entry, a minimum second class honours grade result in their first honours bachelor degree (NFQ level 8). This degree can be in any discipline. Applications will also be accepted from individuals who did not achieve a minimum second class honours grade result in their first honours bachelor degree but who have been awarded a Masters degree or a PhD.
In addition, applicants must have obtained at least a Grade C in Honours Chemistry in the Leaving Certificate or must have successfully undertaken a Chemistry course in a Third Level institution.
Shortlisted applicants will be invited to interview.
Course Outline
Tuition Fees
Tuition fees will be state-funded for the first four years of the programme for students who satisfy the Free Fees Criteria.A tuition fee will, however, have to be paid by all students for the fifth year of this programme. It is estimated that the fee will be circa €8,000.
Careers in Pharmacy
Professional aspects
All graduates who wish to practise Pharmacy must be registered with The Pharmaceutical Society of Ireland. In addition, most pharmacists become members of the Society. The professional activities in a community pharmacy must be supervised personally by a pharmacist.
In the hospital services, pharmacists, as members of the health care team, have special responsibilities relating to the supply and use of medicines.
Pharmacists in the pharmaceutical industry co-operate with other disciplines in producing medicines of the highest quality and safety. A pharmaceutical qualification is an excellent basis for achieving posts of responsibility at the most senior level. Vacancies for pharmacists with the requisite experience become available at intervals in the Defence Forces.
The administration of health services by the Health Boards has provided new opportunities for pharmacists, particularly in the area of community care. The emphasis on primary health care teams as a major element for achieving economies in health budgets has created a new dimension of pharmaceutical activity. More advanced courses, leading to higher degrees in subjects like Pharmaceutics, Pharmacology, Pharmaceutical Chemistry, Pharmacognosy and Practice of Pharmacy, are available to graduates with good undergraduate records. Vacancies in the academic world occur from time to time.
Community Pharmacy
Pharmacists in the community practice occupy a unique position. A pharmacist's advice is readily available to the public. For that reason, the community pharmacy is the most immediately available and frequently used source of information on the safe and proper use of medicines as well as general health matters.
The pharmacist supervises the compounding and dispensing of prescriptions, the supply of medicines and the sale of poisons. Increasingly, pharmacists are called upon for advice on the health services, family planning, drug misuse and abuse, and other related topics. Community pharmacists represent the final link with the public for both prescribed and non-prescription drugs and medicines. Professional control is necessary since the patients' needs must be matched to safe and effective treatment.
In Ireland, community pharmacies are privately owned, yet they provide services under contract to many patients whose medical needs are funded partly or wholly by the State. Most pharmacies have experienced support staff who work under the personal supervision of the pharmacist. Therefore, community pharmacists, by far the largest segment of the profession, require scientific, administrative, supervisory and counselling skills of a very high standard since their daily work involves maturity and judgement. They provide an effective control mechanism over the proper use of drugs in society. Normally, the young graduate will spend some time working in a pharmacy to gain experience before taking on sole management responsibility.
Hospital Pharmacy
The professions concerned with health care work together as a team. Nowhere is this more evident than in the hospital services. A person taking up the career of hospital pharmacist can be assured of a challenging and interesting job, one that changes rapidly in response to developments in the health care field. The pharmacist must be able to integrate well with co-workers, for example, doctors, nurses, radiologists etc.
The pharmacist is primarily responsible for supplying medicines as efficiently and economically as possible; for their secure and proper storage and for their distribution throughout the hospital. The quality, safety and use of medicines must be closely monitored by the pharmacist. This usually entails involvement at ward level. It requires constant updating to keep abreast with the many new or reformulated products being developed by medical and pharmaceutical researchers.
The hospital pharmacy is the centre of drug information. The pharmacist is expected to lecture nurses and medical students on the action of drugs, dose rates, side effects and related problems. They act on the drug therapeutic committees where overall policy is determined in relation to drug usage, new products, clinical trials, infection control, the hospital formulary etc. The pharmacist increasingly plays a vital role in clinical budgeting and on finance committees.
While most medicines nowadays are formulated and prepackaged by the pharmaceutical industry, medications may have to be individually prepared for particular patients. The pharmacist must retain the traditional compounding skills to meet these requirements. Even with modern innovations, there is still a significant demand for this service. It is also important in the preparation of sterile products and of disinfectants.
The career structure in hospital pharmacy provides for an increasing degree of responsibility. The pharmacist, after a year's post-graduate experience, enters the service at the basic grade. With time, he or she moves from basic to senior grade and then either to Chief II or Chief I status. In normal circumstances, promotion can be achieved in a reasonable time scale.
The Pharmaceutical Industry
The Irish Pharmaceutical Industry, both in terms of manufacturing and marketing, has grown dynamically over the last 20 years. It continues to grow and, on the manufacturing side, is fundamentally export-orientated. Within both the manufacturing and marketing sides of the industry, all the major international pharmaceutical companies are represented and, moreover, the industry extends into the area of non-pharmaceutical health care, including medical devices and diagnostic products.
Pharmaceutical companies, depending on their size, typically include a multi-disciplinary team and the pharmacist may have considerable scope for his qualifications – if possible complemented with additional qualifications to his/her primary degree in the areas of sales/marketing, research and development, production quality control, administration and management.
The work of the production pharmacist involves the manufacture of pharmaceuticals and, as such, affords the pharmacist the opportunity to employ both technical skills and management expertise.
Before any batch of a medicinal product is released for sale, a number of tests are carried out on samples of the batch to ensure that the product meets the required standards. These tests are carried out by the quality control department and the head of that department, known as the "Qualified Person", is responsible for authorising the release of the product. The pharmacist, by virtue of his/her training, is in an excellent position to undertake the role of " Qualified Person".
All human medicines must be licenced by the Irish Medicines Board (I.M.B.) prior to being sold here. The role of the registration pharmacist is to prepare dossiers in a specific format for submission to the Irish Medicines Board (I.M.B.) in order to obtain a licence. The I.M.B. is also the licensing authority for veterinary medicines.
The information pharmacist provides information to doctors and pharmacists about the Company's products. He/she may also be involved in areas such as the training of the Company sales personnel and the compilation of technical booklets. Excellent opportunities exist for pharmacists in the area of sales and marketing of pharmaceuticals.
Pharmaceutical wholesaling
Wholesalers supply medicines to the pharmacies. The wholesaler is an essential element in the mechanism of distribution which commences in the manufacturing laboratory and ends when a product is supplied to a patient in a pharmacy. In general the practice in pharmaceutical wholesaling is to appoint a pharmacist to be responsible for the ordering, storage and supply of medicines in compliance with forensic regulations. Experience and training in management can lead to additional responsibilities at the highest levels.
Reciprocity
E.U. Directives provide for the free movement of pharmacists within the European Union. A pharmacist registered in one member state is entitled to move to another member country and be recognised there.
Higher degrees in Pharmaceutical sciences
Pharmacy graduates are eligible to apply for registration as graduate students for the degree of M.Sc., or Ph.D., in one of the pharmaceutical sciences. Candidates are normally required to possess a good honours degree. Details of the regulations for higher degrees are available from the Graduate Studies Office in Trinity. Higher degrees in a pharmaceutical science are usually required for appointments to academic posts. Taught M.Sc. courses are also available in Hospital Pharmacy, Community Pharmacy, Pharmaceutical Analysis and Pharmaceutical Technology.